WHAT'S AMJ
Enjoy feeling familiar with the Japanese Culture in the Festival of Spring in Port City, Niigata
In the spring of 2013, traditional arts, which are said to have a high threshold, were felt in Niigata - the sole Ordinance Designated City on the Sea of Japan side and Art Mix Japan (hereinafter referred to as AMJ) was born as a Japanese festival where one can truly enjoy learning while practicing slowly. About 25 performances in 2 days, visitors come from all over the country seeing them as valuable opportunities to visit many leading Japanese traditional arts intensively and visitors have been increasing year after year. The first overseas performance was held in Mexico in 2016, and in 2017, as it celebrates its 5th year anniversary, AMJ will grow beyond the Shinano River and expand its scale dynamically longer than cherry blossoms. "AMJ Plus" also begins by introducing the cultures of Asia, further striving to succeed in developing Japanese culture from a broad perspective.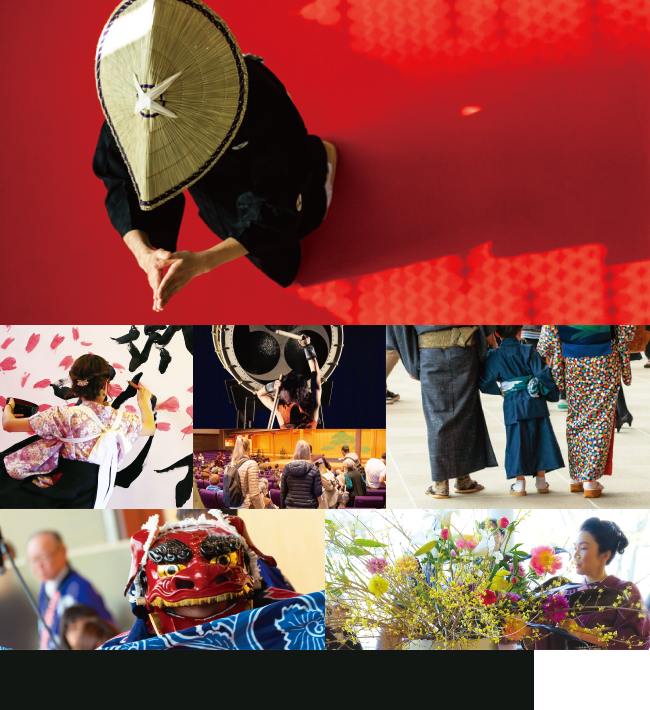 This year is 5th year anniversary's

[best version]


Points to enjoy AMJ!
Successful past performances shall be put together and these performances, which can be described as to be the best version of them all, will represent Niigata for 23 days and will be held in cultural facilities all over the City.
Number of performances, period and venue - all are the largest in AMJ history. Please enjoy the special Spring of Niigata where you can fully appreciate Japanese culture.
1

This year, the biggest scale of 27 performances for 23 days!
Moreover, "all performances are with commentaries"

The best version of AMJ where it celebrates for the 5th time, with up to 27 selected artists of the past, will tinge Niigata in April with Japanese culture for 23 days.
Variety of performances on weekday evenings which can be enjoyed by both parents and children
*variety of performances in abundance and this year, one performance lasts 60 to 100 minutes and performance time extended.

*Some performances regulate admission of preschool children. Please see each performance information for details.

2

Collaboration with overseas artists
[Art Mix Japan Plus] begins!

A new project "Art Mix Japan Plus" introduces traditional Asian culture. Dance companies come to Japan for the first time this year to perform expressions unique to multi-ethnic nations, and the ingenuity that will make us see for comparison are certainly a series of culture shocks.

3

Not just watching!
There are performances to experience, taste and free shows as well!

Niigata's proud food culture and rare Japanese paintings nationwide, traditional crafts handed down from generation to generation for hundreds of years ... In addition this year, the world's popular Japan culture "anime" also participates for the first time. Rich Japanese culture, such as free performances and exciting shows for fans, is filled with multi-colored scenes and overflows in Niigata City for about a month. Please enjoy them in your Kimono with the taste of spring. Of course, we have arranged sessions to help you dress up in your Kimono this year as well!

4

The streets of Niigata also connect you from one place to the other.
The number of venues are also the largest with 18 different places!
AMJ Messages of Support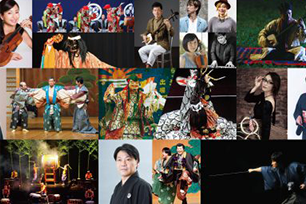 A place to excite culture from Niigata towards the 2020 Tokyo Olympic Games
Ryouhei Miyata 22nd Commissioner, Agency for Cultural Affairs, Government of Japan
"Culture" is being introduced by AMJ now while increasing the number of activities such as holding performances in Mexico and introducing Asian culture. I think this is a very good idea. I want to tell the world that we are also looking forward to the national project, "Beyond 2020 Program" where it shall deliver the charms of the Japanese culture for the Tokyo Olympic Games.
Since I come from Sado Island myself, I also think about the traditional culture of the island. AMJ has taken up many cultures of the Edo Period, yet interestingly, the population of Niigata during that era was the best in Japan, especially in the Tenpo Period where Sado Kinzan (mountain in Sado Island where gold was abundant) supported the national finances of the Shogunate. Given the fact that the three rings of economy and tourism were intertwined, not a single culture and a deeper understanding of it could be obtained.
However, while imitating the past, at the same time continuing contemporary sensibility, the relationship between culture and economy is a consciousness to take in the viewers as well. It is important to work on how to approach it, and if you challenge it with adventurous spirit, a new one will be born.
Keep repeating while we continue to improve. As I try it this way, I believe that more originality will come out, and I think that more people will empathize with it as well.
I love to see my hometown and Niigata getting better and become lively. I hope Art Mix Japan will be a huge success. My support goes out to you!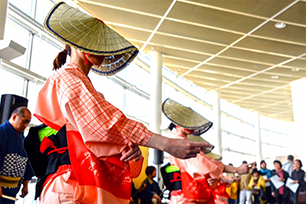 The power of art that shakes the individual's view of the world and relaxing social barriers
Oriza Hirata Structure Professor Playwright, Director / Tokyo University of the Arts COI Propeller
The greatest role of art in the 21st century is to understand diversity. Knowing what the people of the past and the people of the world had thought or what the future would be. I met people who have values different from myself through art and through my art, it is a meaning to encounter the art to shake, especially as the division and immobilization of society progresses, I think that it is the role of art to loosen it even a bit.
In rural areas, there are extremely few opportunities to experience genuine performing arts, but from now on it is more demanding that you feel the real thing and refine your sense and local cultural independence will become necessary.
But art is sometimes changed in appraisal, and even if it is popular now it isn't always the case after 100 years from now. We are now purifying our hearts by seeing works of hundreds of years ago, but there are many things that weren't evaluated at the time of presentation. Because our artists are building wealth for the future, that means people will be in trouble several hundred years from now if this doesn't continue. And what I have followed, there may be something useful enough for that.
Traditional arts have high thresholds, but originally everyone was able to participate then. So it is important first to join from things that are easy to move in, and experience various things like the Wadaiko (Japanese drum) and the Shinobue (bamboo flute). In them, you can see what you like.
Greetings
In 2017, we aim to boldly evolve, aiming to create a future with the power of culture.
AMJ, which started from zero, also celebrates its 5th year anniversary and will make a big evolution through encounters nursed in this age.
Both the period and the field have been expanded boldly. You can enjoy the climate and architecture of Niigata more deeply.
In addition, "AMJ Plus" introduces Asian culture, a new attempt born from the desire to feel tradition and culture in wide concepts and areas.
For example, Malaysia and the Philippines are countries where 80 ethnic groups crowd in each country.
It is something that is born only by comparing it with the Japanese culture with a different background, and I hope that it will lead to peace and the future of the world.
Let us take a new big step this year for the future of Japanese culture.
Takeshi Noto Art Mix Japan 2017 Executive Producer
Summary
Name

Art Mix Japan 2017

Days

April 1 (Saturday) – April 23 (Sunday)

Venue

Ryutopia Niigata City Performing Arts Center / Enkikan / Niigata Station South Entrance Plaza / Japanese Cuisine Kosan Bekkan / Northern Culture Museum / Niigata Citizens Plaza / Niigata City Music and Culture Hall / Konan Ward Cultural Center Akiha Ward Cultural Center / Niigata Terrsa / Chisoku Art Museum / Imayotsukasa Sake Brewery / Minemura Miso Brewery / Former Ozawa Family Residence / Former Sasagawa Family Residence / Niigata Nippo Media Ship / Cine Wind

Organizers

Art Mix Japan Executive Committee (Niigata Soh-Odori Executive Committee / Niigata Chamber of Commerce and Industry)

Co-Organizers

Niigata City / Niigata City Art and Culture Promotion Foundation

Supporters

Niigata Prefecture / Niigata Visitors and Convention Bureau / Association for Corporate Support of the Arts / Consulate General of the Korean Embassy in Niigata / Consulate General of the People's Republic of China in Niigata / Embassy of Malaysia in Tokyo / Embassy of the Republic of the Philippines in Japan / Association for Traditional Performing Arts of Japan / Institute for Creative Sciences / The Niigata Nippo / NHK TV Station / BSN TV Station / NST TV Station / TeNY TV Station / UX 21 TV Station / FM Radio Niigata / FM PORT 79.0 / FM KENTO / Gekkan Niigata / Pas magazine / Gekkan Niigata Komachi / Gekkan Niigata WEEK!
TICKET

Applying for tickets by phone

AMJ Direct Line


025-255-1332


Office hours: 9:00 a.m. – 6:00 p.m. (closed on weekends and holidays)
AMJ NEWSLETTER

We'll send Art Mix Japan's latest information by mail!

Click here to register for Newsletter